23 avril 2010
5
23
/

04
/

avril
/

2010
18:43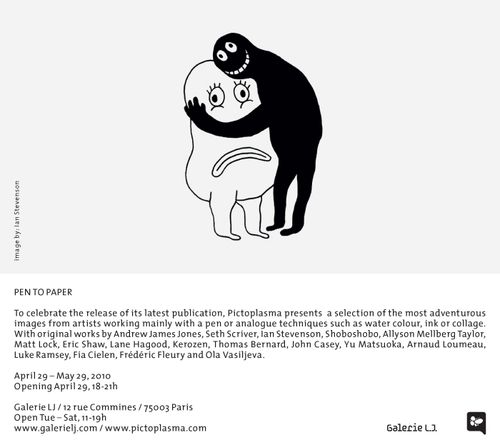 For its annual exhibition dedicated to works on paper, Galerie L.J. has invited Lars Denicke & Peter Thaler/Pictoplasma, to curate an exhibition on the occasion of the release of their new book, Pen to Paper.

The recent revival of analogue skills has injected immeasurable visual wealth into the world of illustration, fine art and especially character design.
Artists reject the computer and channel their creativity through spontaneous freehand drawing to create untamed, edgy and exceptional beings.
All that seems left of our beloved cartoon faces, familiar consumer mascots and pop icon characters is a distorted, far away echo.

Pictoplasma proudly presents a series of exhibitions, featuring original work by the key players of what is being labelled "DIY art" "fractured figuration" or "new psychedelic folk".

Pen to Paper showcases works by Shoboshobo (FR), Allyson Mellberg Taylor (US), Seth Scriver (CA), Andrew James Jones (UK), John Casey (US), Luke Ramsey (CA), Eric Shaw (US), Thomas Bernard (FR), Lane Hagood (US), Joey Haley (CA), Kerozen (FR), Ian Stevenson (UK), Arnaud Loumeau (FR), Fia Cielen (BE), Frédéric Fleury (FR), Matt Lock (US), Ola Vasiljeva (NL), and Yu Matsuoka (JP/FR).
April 29 - May 29, 2010
Opening April 29, 18-21h
www.galerielj.com / www.pictoplasma.com